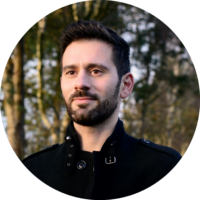 Luca Salemio

Chief Product Owner Enterprise, DCoE, SKF
Asset-centric product delivery: a growth mindset ensuring customer value and business agility
In this presentation I will focus on the cloud-based asset monitoring solution where all services are deployed in AWS cloud. SKF Enlight Centre is an easy-to-use software solution offering the option of connecting directly to SKF remote diagnostic services. It is designed to facilitate the collection and analysis of machine data and uses this data to provide insights and corrective actions (e.g. relubrication, re-alignment, early replacement) that help SKF improve the customer's efficiency and reliability. Data can be collected using various data acquisition devices. When machine data has been collected, the data is uploaded from the data acquisition device to SKF Enlight Centre.
I will talk about how we develop and deliver the different components which are parts of the solution in the hands of our REP centers and end customers.
By continually exploring market and customer needs, the continuous exploration activities drive innovation and generate the work flowing through the continuous delivery pipeline to the customers.I will explain an asset centric approach in the condition monitoring cycle (set up, schedule, collect, analyze, report, maintain, retire), and how we develop on cadence and release on demand to achieve business agility.