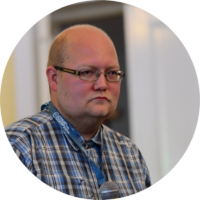 Jonas Öberg

Open Source Officer, Scania CV AB
Bio
As Open Source Officer at Scania CV AB, Jonas Öberg is putting Open Source in support of a sustainable transport system. For 20 years, he has worked to develop the ecosystem of Open Source software, focusing on automation of compliance toolchains and removing obstacles that prevent open source from being employed in new areas. He has an extensive background from the Open Source community, working with the Shuttleworth Foundation, Creative Commons and the Free Software Foundation Europe, the latter of which he co-founded in 2001.
About the topic: Circular Open Source Strategies for Scale
According to research by Jan Bosch et all, "80-90% of all R&D resources is spent on commodity functionality [meaning] that 8 or 9 out of every 10 people in R&D are working on things that no customer gives a flying hoot about."
In this talk, we will explore the ways in which we can work strategically with Open Source communities to enable a circular development of common technologies to reduce the in-house development of commodity technology.