Share your knowledge
Register to participate
Exibit
This year's theme Software Talks is about that today we have reached the point when software talks, listens, learns and acts! We might have ideas about what tomorrow´s software business will look like. But the only thing we can be sure of is that it will be completely different from today.
The Lindholmen Software Development Day is a collaboration between Ericsson, Chalmers, University of Gothenburg, Volvo Group, Volvo Cars, Cybercom, Combitech, Kowledge agency, Ascom, HiQ, Zenuity, SKF, Swedsoft, Business Region Göteborg and Lindholmen Science Park.
---
Share your knowledge
What can you inspire others about?
Presentation topics can be everything from pioneering projects and trends to applied techniques and best practices. It is not a must that the presentation is directly connected to the theme "Software Talks". All proposals are welcome.
This year's five tracks:
Main – Trends
Business
Customer Experience
Technical
Virtual Reality, Augmented Reality and Gaming
Submit your speaker proposal for the upcoming Lindholmen Software Development Day by using the speakers' registration form. Submit your proposal before March 12.
---
Register to participate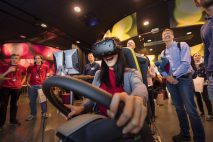 The Lindholmen Software Development Day is a neutral arena for cross-industry knowledge sharing in software development. We want to contribute to innovations, new collaborations and companies, and to strengthen the area of ICT.
We can welcome 600+ participants for this year's conference, but the conference is growing each year and will be fully booked – so what are you waiting for?
Participating is free of charge.
---
Exhibit?
Be part of the Lindholmen Software Development Day. Promote your company in a unique exhibition environment with hundreds of visitors in the field of software development. The exhibition area is located adjacent to the conference hall and the conference room Pascal so that all the visitors have the opportunity to meet your company.

Read more about the different exhibition options and register here.
If you have any further questions do not hesitate to contact Caroline Karlsson
Option 1 and 2 are fully booked, and it is only a limited amount of option 3 and 4 left.
---
Practical information
When: May 29 2018 08:00-16:30
Where: Lindholmen Conference Centre, Lindholmspiren 3-5, Göteborg
Cost of attending: Free
Pictures from Lindholmen Science Park AB, photo: Robin Aron